| | |
| --- | --- |
| | |
| | |
This website is being created in memory of our beloved son, Jim. We never dreamed that his life here on earth would end at the age of 27... It seems so unfair but we know that God has a purpose...
He was born in Topeka, Kansas on March 21, 1978
He passed in Leavenworth, Kansas on July 08, 2005




I cannot explain the devastation that we feel after losing someone that's so much a part of us. It is our wish that those that visit this site will leave a special memory..
Please light a candle and/or click on the tributes tab at the top to leave a memory.. We sincerely thank you for your thoughtfulness!!



We heard our Ashley rush in
to the camper yelling:
"We have to go! We have to go!
Jim's been in an accident"!
I jumped out of bed, my heart pounding,
as I was headed for the door to go to our vehicle saying..
"Oh my God! Where is he? We have to go!
How bad is he hurt"!
She said, "And he's dead"!
I stopped in my tracks and just looked
at her in disbelief.
There was complete silence in the camper. Like a wall had come up between us all.

Our first born...
Only son...
Had been electrocuted
while operating a pump truck
when he boomed into a high voltage line..

Our son... So full of life...
So strong... So loving...

How can this be the end?
So many dreams unfulfilled...

We now have only memories...
Memories of our baby...
Memories of our child...
Memories of our football star...

And those special memories of strong faith, deep within his soul...




We little new that day,
God was going to call your name.
In life we loved you dearly,
In death we do the same.
It broke out hearts to lose you.
You did not go alone,
For part of us went with you,
The day God called you home.

You left us beautiful memories,
Your love is still our guide,
And though we cannot see you,
You are always at our side.

Our family chain is broken,
And nothing seems the same,
But as God calls us one by one,
The chain will link again.






Memory Of




A Dear Son

Something will remind me
I never know just when,
It might be something someone says
And it all comes back again

The times we spent together
The happiness, the fun,
Once again I feel the pain
Of life without my Son.

It's said that time's a healer
Im not sure this is true,
There's not a day goes by my Son
That I don't cry for you.




author unknown




"He will wipe every tear from their eyes.
Death will be no more;
mourning and crying and pain will be no more." -
Revelation 21:4





About Jim's Life:
Jim's first home was in Maple Hill, Kansas…
He lived there for the first 7 months of his life…
We then moved to Sabetha, Kansas.


He brought so much joy to everyone,
being the second grandchild
and first grandson to the Cavin side
and the first grandchild to the Edwardson side..

At the age of two he wondered off and
we heard him crying,
we each thought the other had him and
started looking everywhere…
Then our neighbor came over and said
he was up the street
standing in the middle of the intersection…
This was the beginning of many surprises
we would endure during Jims' life.


During his early years he loved to ride bikes.
He would do stunts off our porch…
Once he flew his hot wheels bike off the end
of the porch and landed on some glass
that left scars on his side…
At the age of five, he would ride his bike
and jump ramps while standing with his feet on the seat.

One year Bob got him a set of
John Deere machinery toys for his birthday.
While playing one day, he smashed them with a sledge hammer…
When asked what happened he said he was driving and a tree fell on
them… What an imagination!! His dad
however, was just a little disappointed…

During his first grade year we moved to Hiawatha, Kansas.
For all those that knew him;
they will not be surprised that each and every report card had,
needs improvement in two areas.
Staying in his seat and talking too much…
Jim had a voice that carried very well
and frequently got him into trouble…


Jim enjoyed camping and fishing with family and friends.
However listening was still a problem for him…
On two occasions he had ran right into patches of itch weed…
The first time he was running to the river.
We yelled for him to stop…
His Uncle Ron (who passed in 1990) dumped buckets
of river water over him to ease the itch…
The second, we were at the river and a fast storm came up.
We were trying to decide which route would be best
and he said, "(This way!")…
He started up the bank and we were yelling again,
"Stop itch weed!" and he went right on up…
After that he really watched closer…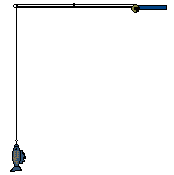 On our fishing trips we would always have a competition,
who would catch the first, biggest, most, and so on…
We always had so much fun giving each other a hard time…
(The Cavin family has always been known for that!
I guess Jim came by it honestly!)
It was always a race to get the best spot
and it didn't matter if we had to walk a half mile,
climb up or down steep banks or wade across streams.
Getting to these spots was half the fun…

especially when Jim would hurry
and end up in the water

…
However getting the catch back out was another situation…
That's where dad came in handy……

Jim enjoyed going by his grandpa Edwardson's
to show him our catch; fish, frogs and or turtles…
Jim always new to take the turtles to grandpa's…
Grandpa was always willing to help clean the catch…

(Thanks grandpa!)


Jim's grandma and grandpa Cavin always enjoyed meeting us
whenever possible to fish and although it was difficult for grandpa
to fish he still gave us all a hard time…
Grandma would always be reading one of her BOOKS…
and enjoying watching her grandkids…
(Jim is in heaven still having a good time with his uncle and grandparents…

When I go fishing I can still have a competition with him…
However he's cheating because he has a lot more time
and bigger fish in heaven, I'm sure…
Jim I guess you have one up on me…
So send some big fish my way too!!
Writing this makes me think of Jared
(Jim's stepson and fishin buddy.)
Makes me miss all the fishing trips
we would have had with him,
he's such a great kid…
Send him some big fish too!!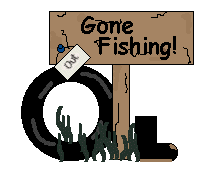 Now let's talk about sports…










So many memories there…



Now that's what I remember…
I'm sure there are a lot of friends and teammates out there
and we would love to have them share a little of their memories..
You are all apart of our special memories of Jim.
A special thanks to Josh for the senior football,
what a gift and what a big heart.. May God Bless you all.

Football wasn't his only sport, Jim also enjoyed playing

baseball and wrestling...

He was always willing to get up early and go play basketball


with Mark Young (his youth pastor) and the rest of the youth group.
This is where you could find Jim is hanging with his friends
and going many places with Mark...
Mexico mission trip, the baseball trip, (Mark has a good story there!) ect..
The trip to Chicago is such a special memory.. (FRIENDS FOREVER!!)


They were always going or doing something...


Mark, Jim loved you dearly...
Thanks for loving our son even through the hard times... I can still
remember the first time you came to our church.
Jim coming up to me and saying, "Mom it's him,
the sax player from camp!"
He was so excited.. What a gift to him..
That terrific man he had met at his first camp experience
would become his youth pastor..
I thank God for sending you!!


Jim asked Jesus into his heart and was baptized at the age of nine… It was then that he started his journey of faith… Youth for Christ, Bible quizzing, youth groups, Sunday school, church, church camps and Youth Leadership Core… Jim had considered becoming a youth pastor at one time… He attended Ottawa University for one semester… (However, Jim and books did not get along well!) He enjoyed helping other people, especially talking with them… He had a desire to help people if he could… What a great gift he had.
He was very protective of the people he loved… If you needed someone to have your back, it would be Jim… He also had the ability to fit in where he needed to… To meet people where they were… He loved to talk, and had a wonderful sense of humor… It was rare to have a conversation with him without laughing… He was also pretty good at getting what he wanted...


He had a hard time finding a job that he liked and therefore shocked us one evening when he came in and announced that he had joined the MARINES!! Scared but proud we sent him off… When we went out for his graduation, we found out that he had a foot problem and had been sent to sickbay…


This was the second big disappointment for him… The first, not being able to play in the state football game his senior year… The next two years Jim struggled with himself and his life… He finally received an Honorable discharge from the Marines for medical reasons… It was nice to have him home…

Jim still struggled with direction in his life… Often felt depressed and that his life would go nowhere… He lacked commitment and fell back into having more fun than taking life seriously… He desperately wanted to have a family of his own… It was then that he met his future wife and fell deeply in love… Carla was the lucky woman that won our son's heart…


We are very proud of the commitment he made… Carla already had two wonderful children Kayla and Jared. Jim loved them as if they were his own… Soon another child came into their lives… A special little boy they would later adopt… Tavo was Jim's little shadow… If you saw Jim you could bet Tavo was on his heels... Tony French married Jim and Carla May 31, 2003 at the Christian Center in Hiawatha, Kansas… Jim really enjoyed working at Bottorff Construction out of Atchison, Kansas… He became very close to the people he worked with… Another child came into Jim's life, a little girl… Jim and Carla adopted her as well… Jim loved Tiana with all his heart… We enjoyed watching him bounce her on the palm of his hand… He always told us she was the best baby… That she never cried and she was always smiling… It brought us great joy to watch him with these children… We were amazed at the love and commitment that he had for them… That he had as much love for them as he could of had if they were his own biological children… We are very proud of our son… Watching him continue to keep his commitment to his family even through the trials… Jim was very concerned about making a job change... He enjoyed his fellow workers and did not want to change jobs... However he felt he needed to and that is when he began working for Midwest... We were pleased that he found another job that he really liked... He would say it was just like playing a video game... He would say that he always had to watch the lines... That they were his worst enemy... It breaks our hearts that it would be less than three months and he would lose his life...It is extremely hard for anyone to take on as much as Jim did… How did he do this I often wonder...


JIM WAS A MAN WITH A LOT OF LOVE

TO GIVE... AND HE GAVE HIS ALL


Child Of Mine


I'll lend you for a little time a child of mine," He said.
For you to love the while he lives and mourn when he is dead,
It may be six or seven years, or twenty-two or three,
But will you, till I call him back, take care of him for me?
He'll bring his charms to gladden you, but should his stay be brief,
You'll have his lovely memories, as solace for your grief,
I cannot promise he will stay, since all from earth return,
But there are lessons taught down there I want this child to learn.
I've looked the wide world over in my search for teachers true,
And from the throngs that crowd life's lanes I have selected you.
Now will you give him all your love, nor think the labor vain,
Nor hate me when I come to call to take him back again?
I fancied that I heard them say: "Dear Lord, Thy will be done!
For all the joy Thy child shall bring, the risk of grief we'll run.
We'll shelter him with tenderness; we'll love him while we may,
And for happiness we've known forever grateful stay.
But should the angels call for him much sooner than we'd planned,
We'll brave the bitter grief that comes and try to understand."

author unknown



http://marshasgraphics.com/Teardropsinheaven.html
http://ruthann1.com/LetterFromHeaven.htm
http://ruthann1.com/ReplyToLetterFromHeaven.htm
http://ruthann1.com/ItOnlyTakesFaith.htm